Find The Right
Work Environment
We're not a team. We're Family.

FAMILY
AdventHealth's culture emphasizes family and support, which is familiar for all military personnel.

SUPPORTIVE
Across our 50+ hospitals and corporate offices, we provide a comfortable, inviting and balanced working environment for veterans planning their next career.

DIVERSE
Here at AdventHealth, you can expect an inclusive work environment, fostering teamwork with people from different backgrounds, ethnicities and religious beliefs.

FAITH BASED
As a faith-based organization we are proud to serve our communities, and our veterans help us serve daily. We thank you for your continuous service.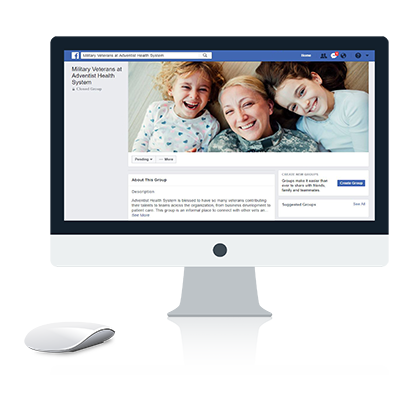 Join Us on Facebook.
AdventHealth is blessed to have so many veterans contributing their talents to teams across the organization, from business development to patient care. This group is an informal place to connect with other vets and share ideas for improving the veteran experience at AdventHealth.